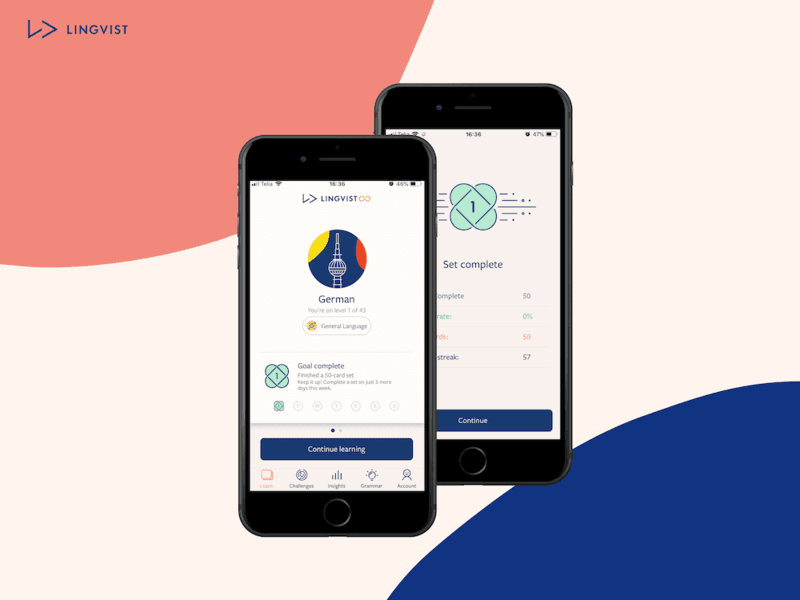 You might have noticed that we have changed a few things in Lingvist related to your learning and goals. We spoke to Jonn Galea, our Head of Product and Design, to give you some insight into these changes.
Hey Jonn, thanks for talking to the blog. Our learners may have noticed that we now put more emphasis on completing sets of cards – how did this come about?
What made us start to think about this was the fact that we wanted users to "get" Lingvist earlier on in their experience with the app. If they understood what we were about earlier on, we figured it might help them reach their goals even faster.
So what changes for our learners?
What is really changing is the way we measure a learner's progress. If you remember, we used to ask learners to complete 100 cards per day, but our research showed that breaking this number into more manageable sets would lead them to faster progress. Completing a set or more of 50 cards over four different days within a week makes words stick that much better and also helps you make learning a language a daily habit.
Anything else you'd like to add?
Yes, actually! You'll notice we have new badges and achievements centered around this new philosophy of completing sets of cards and reaching your weekly targets. For example, you earn an achievement for each set of 50 cards completed – a "study day" trophy! They were lovingly designed and we hope you like them.