When starting to learn a language, setting goals is perhaps one of the biggest keys to success. How can we set a goal that's useful, achievable, and realistic for how we can spend our time learning? Lingvist's Data Scientist, Mikk took a deeper look at some learning data and has some surprising answers!
Learning a new language can seem like an overwhelming task; it requires time, focus, and persistence. We all have a variety of reasons for learning a new language, but the struggles we face getting started are surprisingly similar.
Often, the hardest part is simply getting started. Before we start, many of us want to know how much time we need to put into learning before we actually start to see the benefits. When exactly will we begin to really understand our chosen new language?
According to research, we can understand about 80% of a text after learning 2000 words. Of course, depending on which language you're studying and how common the words are which you study, this will vary. Overall, though, it's quite a motivating rule of thumb.
But how long does it actually take to learn 2000 words?
Using our data, we tried to figure out an average time estimate and found that over the last year, it has taken most people 17 hours to reach 2000 words.
That's the same amount of time that it takes to watch 3 seasons of Game of Thrones.
However, in one way or another we're all different — we might prefer short learning sessions to longer ones, many sessions per week or just a few over the weekend. We tried to capture and visualise these differences in learning styles to see how they stack up.
Here's our graph showing the journeys of 3 people learning English or Spanish with different learning habits. Click to enlarge the graph: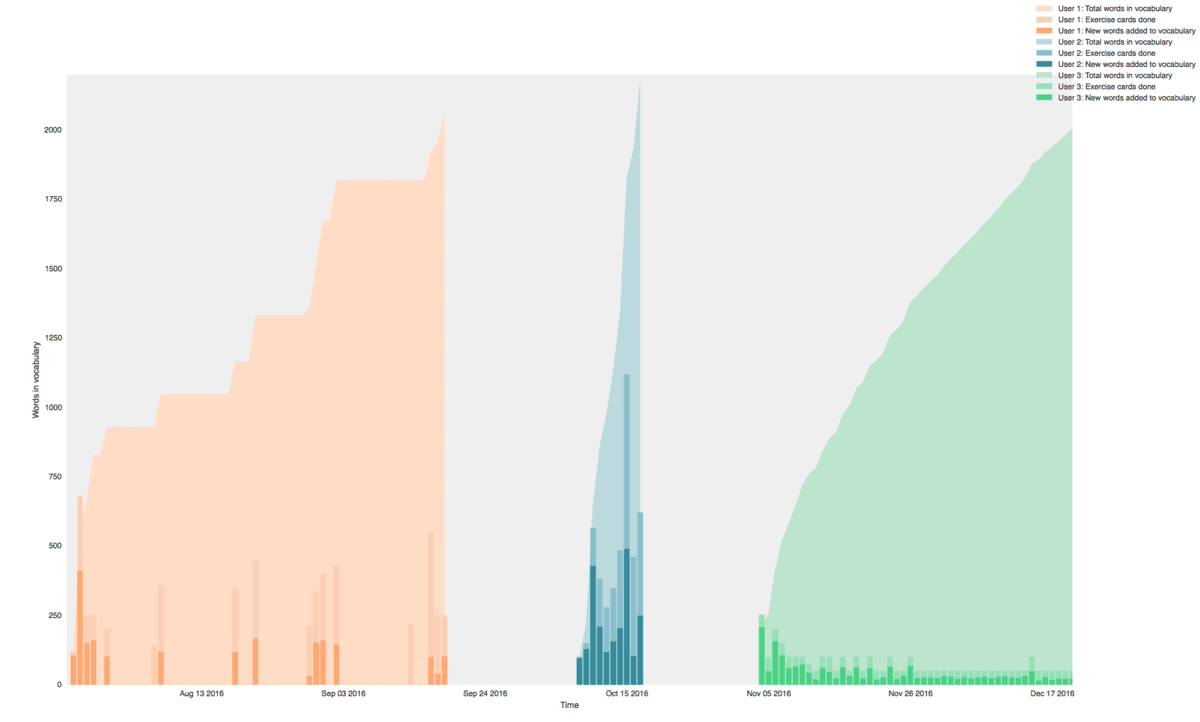 Our first user (Orange) is learning English from Spanish and prefers a relaxed approach, learning on weekends or successive days with longer pauses in between. The second user (Blue) is learning English from Russian and prefers long daily sessions with no days off, achieving 2000 words in almost a week. The third user learning Spanish from English (Green) prefers short daily sessions over a longer period and manages to achieve this goal over a few months.
All three users have unique learning styles but they have one thing in common – they all achieved this goal in 17 hours of active learning time.
This goes a long way towards illustrating that how long we're able spend our time learning a language shouldn't be a source of discouragement.
In fact, these learning styles should encourage us to take that first step towards learning a new language. Sure, the time needed to complete 17 hours of study varies from person to person, but it's a lot easier to start with a clear goal and break it into manageable daily or weekly doses.